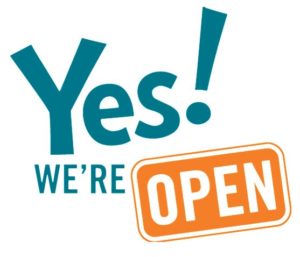 We will be open for regular dental work, cleanings, fillings, and more starting Friday, May 1! We have our team members here today answering your calls to schedule an appointment or reschedule as needed. We're excited to be back, but we ask you to please read this letter which details the steps we are taking, and need our patients to help with, for a safe and healthy dental visit. Thanks so much!! – Dr. Baxter
____________________________________
We hope this letter finds you and your family in good health. Our community has been through a lot over the last few months, and as we look toward resuming your dental visits, we want to update you on what to expect at your visit for the current time, until restrictions lift. Our top commitment is the safety of our patients, families, and team.
Infection control has always been a top priority for our practice. Our office follows infection control recommendations made by the American Dental Association (ADA), the U.S. Centers for Disease Control and Prevention (CDC), and the Occupational Safety and Health Administration (OSHA).
To help with the efficiency and safety of your child's appointment, please observe the following recommendations from the Alabama Dental Board:
-Please stay home and cancel your child's appointment if anyone in the house has a fever, flu-like symptoms, GI symptoms, a loss of taste or smell, or has been around anyone with COVID-19. We are required to have you sign a screening form when you arrive. The pen and sheet or iPad will be disinfected between patients.
– Please use the restroom and have your child use the restroom before coming to the office. We have a bathroom available if you need it, and it will be disinfected between uses.
-When you arrive, please call us at 205-419-7444 to let us know you have arrived.
– Per the board rules, only children with a scheduled appointment and one parent are allowed in the office (this is not our rule as we typically like to welcome everyone, but for now this is necessary). Thank you for understanding. If other children without appointments must accompany you to the visit, the child having the appointment can come in, and the parent and other children without appointments can wait in the car. If the other child is due for a visit, we are happy to clean their teeth too and make them an appointment at the same time, but please reach out to us ahead of time if possible.
– Parents and older children are encouraged to wear a face covering or mask if possible.
What you can expect from us:
– We will come to your car to take a temperature and ask the screening questions, and then accompany you to your treatment room.
– We will provide hand sanitizer as you enter.
– We will thoroughly disinfect all treatment areas, and observe social distancing rules.
– We will wear N95 masks and face shields to limit the chance of the spread of disease.
– We will use DryShield and high volume suction that we always use during filling appointments to minimize aerosols.
– The waiting room will not offer coffee, magazines, toys, or iPads for the time being to minimize surfaces to be cleaned. The parent may choose to wait in the waiting room (with social distancing) or vehicle during the child's appointment.
– We will still find a way to make the visit fun and enjoyable for your children! 
We look forward to seeing you again and are happy to answer any questions you may have about the steps we take to keep you, and every patient, safe in our practice. To make or reschedule an appointment, please call our office at 205-419-7444.
Thank you for being our patient. We value your trust and loyalty, and we look forward to welcoming back our patients, neighbors, and friends.
Sincerely,
Drs. Baxter, Jones, Adams and SPD Team