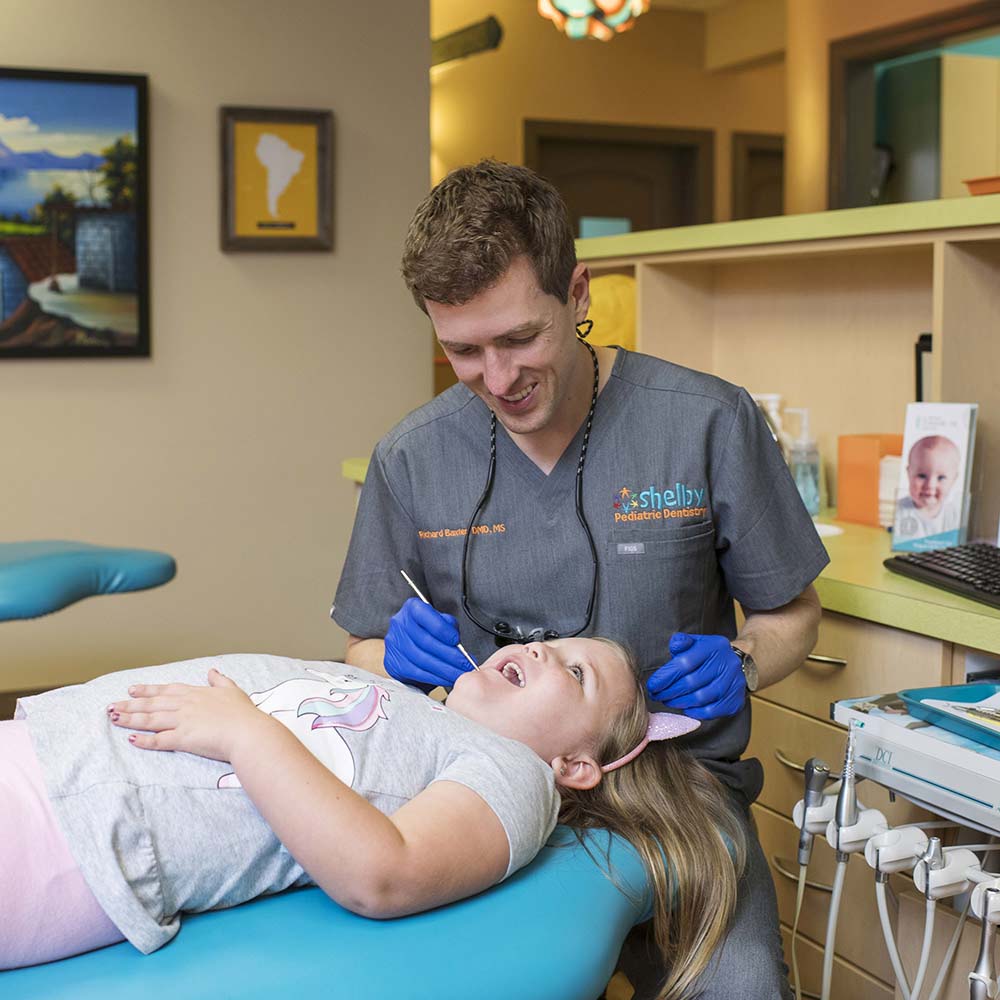 We take your child's oral health seriously.
Your child's early dental care is pivotal to the health of his or her teeth, gums, and facial development, so our doctors are committed to using the best dental techniques and most state-of-the art equipment available. Making sure your child has a stress-free visit sets the stage for the decades of visits they'll have in the future, too. So, we promise to be gentle and keep the atmosphere light and fun.
We always start by getting to know your family first. This helps us learn about past dental visits, concerns, and any discomfort your child may be experiencing. It also allows us to establish trust with your child so we can offer the most effective care.
We're committed to excellence.
You'll love the rest of our team, too.
Some children are intimidated and even scared of dental visits, especially if they've had a bad experience in the past. We want to change that! At Shelby Pediatric Dentistry, we keep your child entertained and engaged with kid-friendly amenities starting with a commercial-grade playground outside (complete with a restaurant-style pager system) all the way through to our bright, colorful treatment rooms!
Psst….We didn't forget about mom and dad either.
Toys, Books & iPad Station
Whether your child likes to unwind with a good book, play with the toy kitchen, or get lost in an awesome game, we have something to entertain kids at every age!
Coffee Bar & Free Wifi
Endulge in a treat from our gourmet coffee bar and catch up on your to-do list with free wifi throughout the entire office.
Ceiling TVs & Goodbye Treats
Distraction is a great way to help kids relax at the dentist, so there are TVs with the latest movies above every chair! And, before leaving, we make sure they select a special prize from our treasure tower.
Along with providing your children a fun and friendly dental home, we also do all that we can to ensure that the dental visit is safe for their health and the environment. We have done a ton of research, consulted with experts and implemented a plan to maintain a "green" office and provide you and your family with pure, honest dental care.
We've also invested in state-of-the-art dental equipment that helps us catch problems like tooth decay and improper tooth eruption earlier so we can treat your child's teeth in the best way possible. This technology often saves you time and money and your child from more extensive dental treatments in the future.
You don't have to dread your kids' dental appointments.
Get exceptional care at an office everyone loves to visit.